Lifetime Warranty

At Universal Kitchen Center, your cabinets come with peace of mind because we stand behind them 100%. Your kitchen cabinet investment comes with a limited Lifetime Warranty for as long as you own your home. Ask us for a copy of our limited Lifetime Warranty when you book your Free Consultation.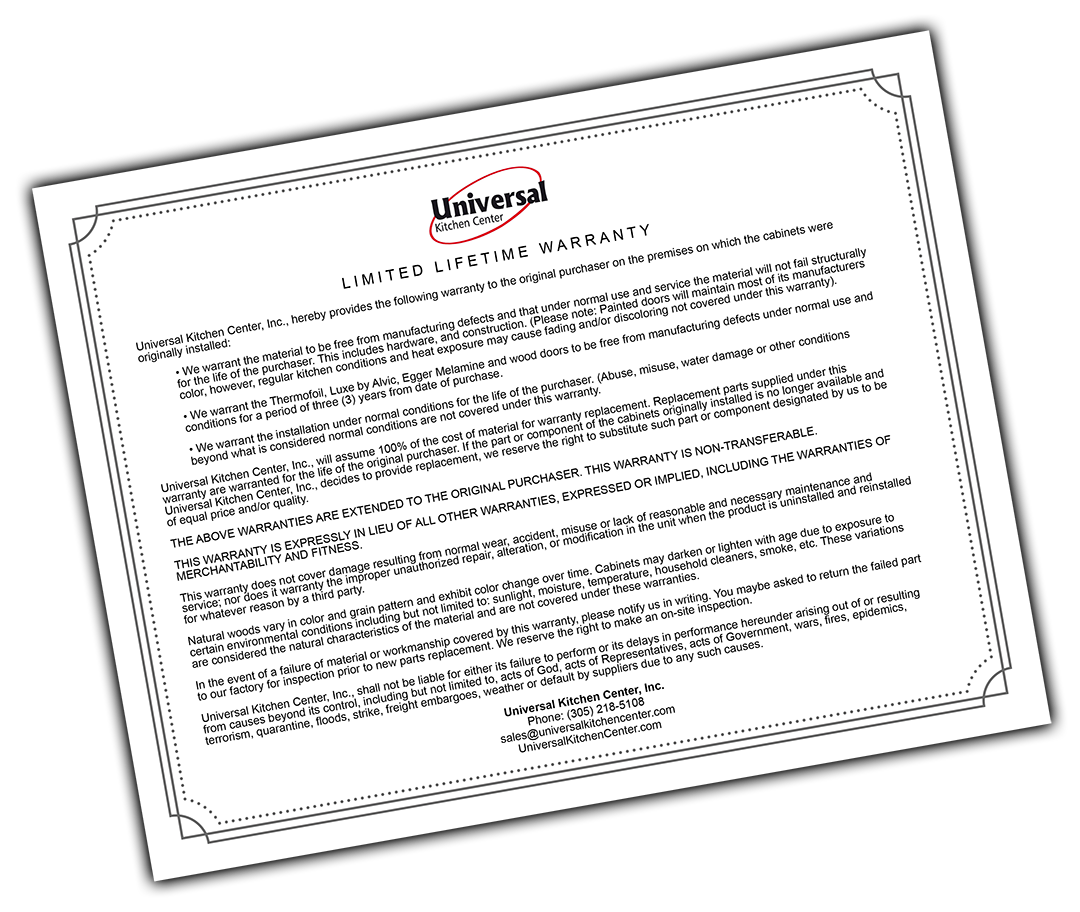 Schedule a FREE No-Obligation Consultation...
Call us today at (305) 218-5108 to schedule an appointment for a Free Consultation, or click the button below to schedule it online.
There's no cost or obligation so you have nothing to lose because if we can't help you, I will let you know right away and recommend other options. It's that simple!
"Love my beautiful kitchen and bathroom cabinets and the great customer service you provided.
"We had a kitchen grease fire occur in 2006 which was a devastating experience. With that being said and on a lighter note, as the process became smoother with our house insurance claim, we only turned to Universal Kitchen Center without any hesitations. The experience was smooth, the professionalism was above satisfactory from the products to the great service provided. They met our needs and listened to our tastes and suggestions which is something very important to the customer. The quality from the cabinets to the granite was something very important to us because quality at a reasonable and fair price is important to everyone. We would definitely recommend Universal Kitchen Center to our family, friends, co-workers and neighbors as we have in the past"
"I would recommend Enrique in a heart beat. He is extremely professional and has great vision. Everyone that I've recommend Enrique to is extremely happy as well."
"I am in love with my kitchen! It was a smooth and pleasant construction process. Enrique was very professional and gave us a bunch of different ideas. Highly recommended."
"I love my New kitchen it is Beautiful!!!
Enrique and all the staff of his company are very friendly and professional, they give all their help at all times during the process!!! They also made the cabinets of my three bathrooms and everything looks spectacular!!! Thank you Enrique and Abel for all the work!! I recommend them!"