"Don't Call Another Kitchen Remodeling Company Until You Read This First…"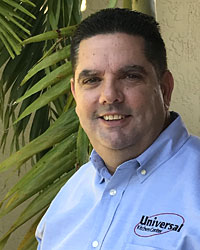 Hello, my name is Enrique Morales, and I'm a Certified Kitchen and Bath Designer, and the owner of Universal Kitchen Center. First, I want to thank you for visiting my website, and secondly, I want you to know that I'm glad you're here because I think I can help you.
You see, I've been in the kitchen cabinet business for more than 30 years (33 to be exact,) helping homeowners just like you realize the kitchen of your dreams.
The experience I've acquired in these 30+ years designing and installing affordable quality kitchen cabinets, has earned us a reputation I'm proud of, but the true secret to our success is that we don't try to be everything to everyone.

There are kitchen cabinet companies that will say yes to other projects like wood floors, crown moldings, baseboards and even stairs. At Universal Kitchen Center, we solely focus on our core business which is kitchens, baths and closets because taking on every project under the sun makes you a jack of all trades but a master of none.
With Universal Kitchen Center you get the peace of mind knowing that your kitchen or bathroom remodeling project will be managed from design to installation by a specialist.

If you're looking to design the quality kitchen of your dreams without breaking the bank, you're in the right place because that's what we do best for our clients – and we can do it for you too.
My Promise to You…

If you give me the opportunity to earn your business, I will make you the same promise I make all my clients:
Your 100% satisfaction guarantee is our priority. – That means that I will personally be the one who manages your remodeling project from start to finish. From the early planning, selection and design, to the installation, I will personally make sure every detail is meticulously covered to avoid unpleasant surprises, and if any issues were to arise during installation they are fixed promptly on-site. But that's not all… You'll also have the peace of mind knowing your new kitchen cabinets come with a limited Lifetime Warranty.


You will not be rushed. – A kitchen remodeling project is a major home investment that will add beauty and value to your home or apartment for years to come. From start to finish, we will dedicate the time and patience required to see that the final outcome is the kitchen you envisioned – the kitchen of your dreams.

You'll get the best deal. – The lowest price doesn't mean you're getting a good deal if the cabinet maker cut corners and you end up with cheap materials and shoddy work. A long time ago I learned that people don't want the best price, they want the best deal. The reason I can give you the best deal on a beautifully designed kitchen is because I don't have the big expensive showroom overhead. When you hire me to redesign and remodel your kitchen, you're paying for my experience and expertise, not for the big expensive showroom because I come to you.
Schedule a Free No-Obligation Consultation…
Call me today at (305) 218-5108 to schedule an appointment for a Free Consultation, or click the button below to schedule it online.
There's no cost or obligation so you have nothing to lose, because if I find that I can't help you, I will let you know right away and recommend other options. We'll take on your project only if it's a good fit. That's a promise! 
Thank you once again for taking the time to visit my website. I hope you found this information useful in your search for your dream kitchen.
Enrique Morales – Owner
Universal Kitchen Center
"Love my beautiful kitchen and bathroom cabinets and the great customer service you provided.
"We had a kitchen grease fire occur in 2006 which was a devastating experience. With that being said and on a lighter note, as the process became smoother with our house insurance claim, we only turned to Universal Kitchen Center without any hesitations. The experience was smooth, the professionalism was above satisfactory from the products to the great service provided. They met our needs and listened to our tastes and suggestions which is something very important to the customer. The quality from the cabinets to the granite was something very important to us because quality at a reasonable and fair price is important to everyone. We would definitely recommend Universal Kitchen Center to our family, friends, co-workers and neighbors as we have in the past"
"I would recommend Enrique in a heart beat. He is extremely professional and has great vision. Everyone that I've recommend Enrique to is extremely happy as well."
"I am in love with my kitchen! It was a smooth and pleasant construction process. Enrique was very professional and gave us a bunch of different ideas. Highly recommended."
"I love my New kitchen it is Beautiful!!!
Enrique and all the staff of his company are very friendly and professional, they give all their help at all times during the process!!! They also made the cabinets of my three bathrooms and everything looks spectacular!!! Thank you Enrique and Abel for all the work!! I recommend them!"